Enterprise Environmental Factors vs Organizational Process Assets
In this post, we are going to learn about the difference between Enterprise Environmental Factors (EEFs) and Organizational Process Assets with the help of examples and the new EEF/OPA game. Though this topic is explained pretty well in the PMBOK Guide, 6th Edition, there are some pitfalls that I would highlight in this post. This post combined with the drag and drop game should provide you a solid reference and help you tackle the PMP or CAPM exam questions.
The PMBOK Guide, 6th edition terms both EEFs and OPAs as "influences" on the project because they can influence the project outcome in favorable (positive) or unfavorable (negative) ways. Both EEFs and OPAs should be considered in order to achieve successful project outcomes.
Enterprise environmental factors (EEFs)
Enterprise environmental factors (EEFs) refer to conditions, not under the control of the project team that influence, constrain, or direct the project.
Key Points about EEFs
can be internal or external to the organization
originate outside the project and often outside the organization
may have an impact at the organizational, portfolio, program, or project level
are used as inputs in many project management processes, especially Planning processes
can enhance or constrain project outcomes
can be positive or negative
Types of EEFs
EEFs can be of two types:
Internal (to the organization)
External (to the organization)
Examples of Internal EEFs
Organizational culture and structure
Organization's infrastructure
Project Management Information Systems (PMIS), e.g. Automated Tools; Configuration Management System; Scheduling Software, etc.
Resource availability
Resource capability
Examples of External EEFs
Government or Industry standards
Marketplace conditions
Political climate
Commercial Databases
Cost Estimating Data; Risk Databases, etc.
Organizational Process Assets (OPAs)
Organizational process assets (OPAs) are the plans, processes, policies, procedures, and knowledge bases specific to and used by the performing organization.
Key Points about OPAs
influence the management of the project
are used as inputs in many project management processes
are internal to the organization
Types of OPAs
OPAs are also of two types:
Processes, policies, and procedures: these are usually established by the PMO, and not updated as part of the project work
Organizational knowledge bases: these are updated throughout the project with project information
Examples of Processes, Policies, and Procedures
Standards, policies, procedures, and guidelines related to:

Communication
Risks
Procurements
Costs
Change Control
Work Authorization
Closure

Templates for project plans and documents
Product and project life cycles, and methods and procedures
Preapproved supplier lists and contractual agreements
HR and Admin Policies
Examples of Organizational Knowledge Bases
Project files
Lessons learned knowledge base
Issue and defect management databases
Configuration management knowledge base
Process measurement databases
Financial databases
Common Pitfalls related to EEFs and OPAs
I noticed a few items that could be potential pitfalls. Take note of these for your exam.
Pg 38 lists "approved providers and subcontractors, and collaboration agreements" as an internal EEF., whereas Pg 40 lists "Preapproved supplier lists and various types of contractual agreements" as OPA for Initiating and Planning processes. My interpretation is that the (pre)approved suppliers/subcontractors are EEFs, whereas the processes, policies, and procedures guiding the contracts are OPAs.

Ethics and code of conduct are listed as both internal and external EEFs (Pg 38 and 39).

Configuration management systems are EEFs, where configuration management knowledge repositories are OPAs.

Commercial risk databases are EEFs, whereas risk categories are OPAs. Think of risk categories as those developed by the organization.

Work authorization systems are EEFs, whereas procedures for issuing work authorizations are OPAs.

Information technology systems including issue and defect management databases are EEFs, whereas issue and defect management data repositories (information that you store in those databases) are OPAs.

Human resources are EEFs, whereas human resource policy is an OPA.

Environmental policies are OPAs. Don't get mislead by the word "environmental" and choose EEF.
Some Exam Tips on EEFs and OPAs
If it's an organizational process, procedure, or policy, it's an OPA. These are usually not updated by the project, but influence the project. For example, change control procedures, human resource policy, quality policy, etc.

If it's an artifact (plan, document, report, file etc.) created by the project, it's an OPA. For example, project management plan, risk register, traceability matrices, lessons learned, status reports, etc.

Anything outside of a process, procedure, or policy but pertaining to your organization is an EEF. For example, organizational structure, culture, facilities, systems (hardware or software), resources (internal and external) including manpower, etc.

Any influence from outside the organization is obviously an EEF. For example, market conditions, political climate, legal restrictions, commercial databases, governement or industry standards, etc.

If it's a "system", it an EEF, but if it's a repository (think data) it's an OPA. For example, configuration management system is an EEF, whereas configuration management knowledge repository is an OPA.

Templates developed or tailored by the organization are OPAs. But if it's an industry standard template, then it would be considered an EEF.
Quiz Time
Now it's time to test your knowledge on this subject. Click on the image below to head over to the EEF OPA Drag n Drop game, which I created recently to spice up to this otherwise dry topic.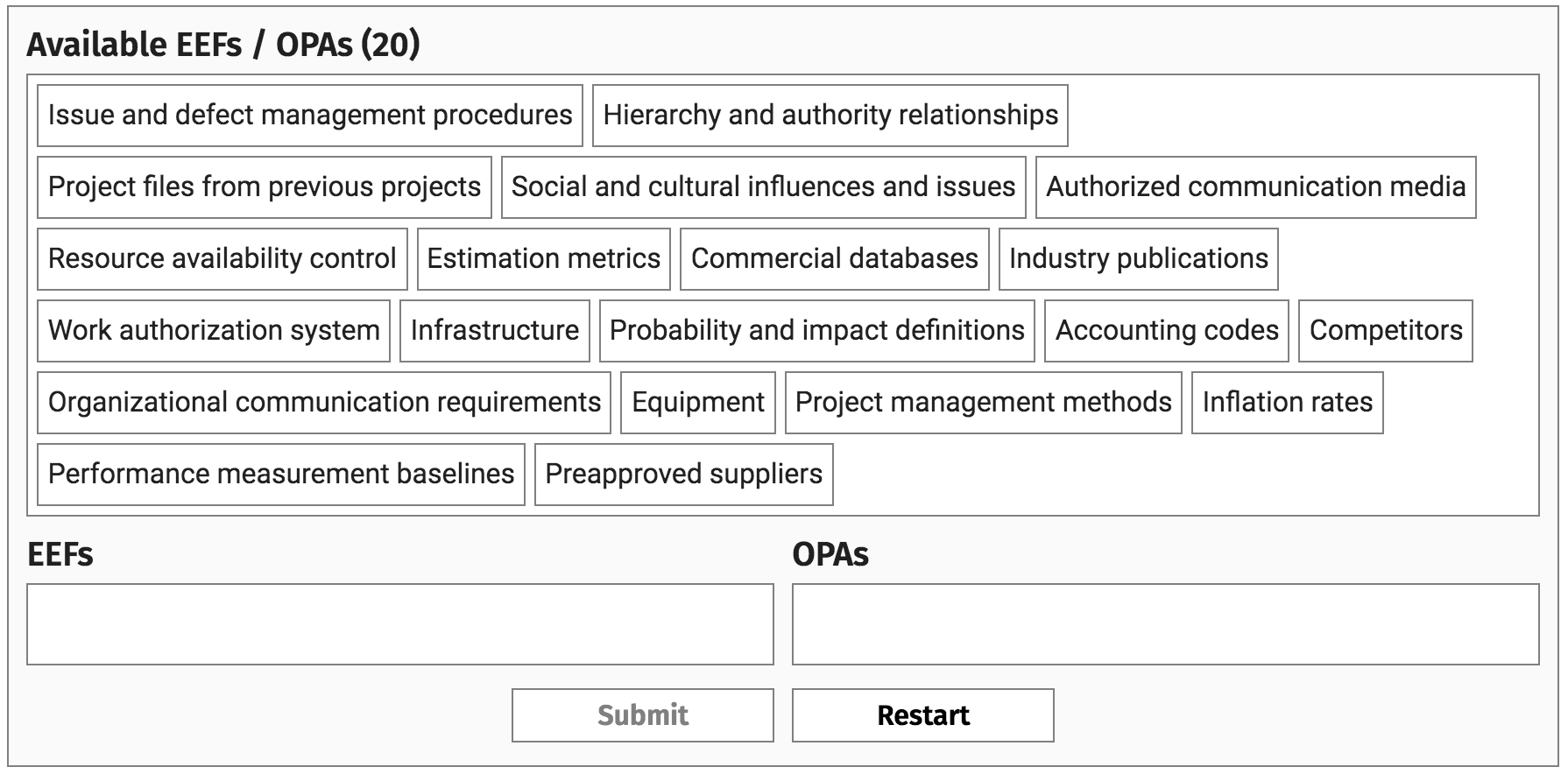 Click on the image above to open the game
Infographic on EEFs vs OPAs
Conclusion
I hope you found this post useful and it helps you get 1-2 more questions right on the exam. If you have other good examples that could enrich this post, please share them with me through the comments section below. Do give me some feedback on the game as well.