5 Popular Myths about PMP Exam Passing Score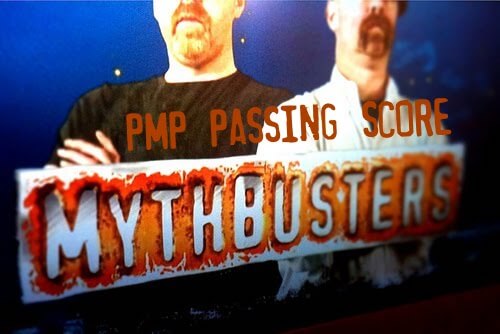 PMP Passing Score (Part 1): Is 61% still the passing score for PMP exam? PMP exam passing score has undergone several changes over the years, but old myths refuse to die. I'm a huge fan of the popular science television series, MythBusters, and today I'm going to play the MythBuster and take on 5 popular myths about PMP exam passing score. This article is part of the series on PMP passing score. Apart from the popular myths, we'll also look at changes to PMP passing score and FAQ on PMP Passing Score in an attempt to educate PMP aspirants about the topic.
Update Aug 19, 2017: PMP Exam Result Report is changing. The 3-level domain-wise proficiency rating would be replaced with a 4-level proficiency rating from Aug 28, 2017.
Disclaimer: PMP exam scoring criteria is a black box. While I've made all effort to provide the most accurate and complete information, I provide no warranty, expressed or implied, as to the accuracy, reliability or completeness of furnished data. Please use this information at your own discretion.
Myth 1: PMP exam pass percentage is 61%
This is history and not true anymore. The passing percentage used to be 61% until 2006.
Back then, the percentage was clearly specified in the PMP Handbook. In 2005, PMI also published a document "Frequently Asked Questions regarding the new PMP Examination", in which they clearly mentioned the passing score as 106 out of 175 (about 61%). The FAQ document is not distributed by PMI anymore.
But now, PMI does not disclose the exact passing score or percentage anymore. You would not find any official PMI document that specifies a PMP certification pass percentage. You can also confirm this with PMI Customer Care.

PMI does not disclose the exact PMP passing score
It's been several years since PMI implemented the change. Unfortunately, even now many PMP trainers, websites and resources continue to promote 61% as a passing score, and many unsuspecting PMP aspirants continue to go into the exam thinking they need to score 61% to pass. The myth continues to thrive like an "urban legend".

PMP aspirants continue to take 106 or 61% as a rough guideline for the passing score
Myth 2: A fixed passing score is applicable to all candidates
This is what the PMP Handbook says on this subject:

Establishing the Passing Score

The passing score for all PMI credential examinations is determined by sound psychometric analysis. PMI uses subject matter experts from across the globe to help establish a point at which each candidate should pass the examination(s) and the examination point of difficulty. Data that show how candidates actually performed is cross referenced with the subject matter experts to ensure that the point of difficulty on each examination is healthy.
In sound psychometric analysis system, there is no documented set mark or percentage you must achieve to pass the exam. The minimum mark or pass percentage varies for each exam, and is based on the exam's difficulty and on all the student's scores achieved globally. It also means that if you get lots of easy questions on the exam, your pass percentage may be higher compared to the pass percentage if you get tougher questions correct. So one candidate may pass the exam scoring just 55%, and the other may fail despite scoring 65%.
Myth 3: Every question carries equal weightage
This is essentially the same as the previous point. If you get the tough questions correct, you may pass with a lower overall score. So the point is that tougher questions carry higher weightage.
Refer to PMP Certification Notes for help with complex project management concepts not explained well in the PMBOK Guide or in other popular PMP Study Guides.
Myth 4: There's a percentage score associated with each Proficiency level
The myth floating around goes on to specify the exact minimum percentage for each proficiency level. For example, Proficient = 80% (or above), Moderately Proficient = 61% (or above), and Below Proficient = Below 61%.
Interesting, isn't it? I call this The Kidney Heist of PMP certification. It is pure speculation. If it's not mentioned in the PMP Handbook, I don't trust it, no matter what anyone says or writes.
Myth 5: You need to score at least "Moderately Proficient" in all 6 domains in order to pass the exam
In other words, it means that a single "Below Proficient" grade in any domain will shut the doors on you. This isn't true either. In part 2 of this series, I'll show you real PMP passing score data (score results) gathered from successful candidates, that proves this wrong. People have scored "Below Proficient" in one or more domains and still passed the exam.
Changes to PMP Passing Score in Chronological Order
Now that we have busted the myths, let's look at the key changes to the PMP passing score in a chronological order. It's important to give you this background so that you can understand the current situation clearly. So, let's review the changes in a chronological order.

In 2004, PMBOK Guide, 3rd Edition was introduced. In July 2005, PMP exam was changed to align with PMBOK Guide, 3rd Edition. At the same time, PMI increased the passing percentage to a staggering 81% (yes, eighty one percent). With the increase in passing percentage, the percentage of candidates clearing the exam in the first attempt dropped dramatically. PMI was quick to react and dropped the passing percentage to a more reasonable 61% (sixty one percent) in Dec 2005.

Until 2006, the PMP Handbook clearly specified 61% as the passing score, but thereafter, PMI stopped revealing the exact pass percentage, even though, they continued to provide the domain-wise percentage on the score reports.

The next big change occurred at the end of 2007, when PMI changed how diagnostic results were presented in the score reports. Instead of domain-wise percentages, PMI started using global best practices in examination administration by using proficiency levels. So now they provide proficiency levels like Proficient, Moderately Proficient and Below Proficient by domain, instead of a numerical percentage scored in each domain.
Additional FAQ on PMP Passing Score
When do I know the Result of my PMP Exam?
For Computer-Based Test, you will know the result after several 'loooong' seconds upon completion of the exam. You are allowed to pray to your God during this time. In short, you'll get the result on your screen immediately after you complete the exam.
Pearson VUE test center will give you an "official" sealed copy (computer print-out) of your marksheet before you leave the test center.
For Paper-Based Test, it will take a few weeks before you get the result.

What does the PMP Exam Score Report contain?
The PMP Exam Score Report contains:
Test result - Pass or Fail.
Domain-wise performance information:

Proficient
Moderately Proficient
Below Proficient
Note: The Score Report does not show your actual score or even percentage score.

Can I view my PMP Exam Score Report Online?
Yes. You can view your certification status and PMP exam score report online at PMI's Online Certification System. After you log in with your user ID and password (you need register on that site first if you don't have an account), you would see your current certification status and a link to the PMP exam score report in the "My PMP" section in the navigation bar on the left.

Is there any way to find the percentage score on the PMP Exam?
No. PMP Exam score report only indicates the domain-wise proficiency level. There's absolutely no way to find the actual score.

What is the Percentage Equivalent of each Proficiency Level on the PMP Exam?
If PMI were to disclose percentage values for each proficiency level, then why would they move away from the old system (of publishing the score in percentages) to the new system (of publishing proficiency levels)?
So the short answer is - PMI does NOT disclose the percentage score for each proficiency level (Proficient, Moderately Proficient, Below Proficient).

Does proficiency level (or score) matter on the PMP Exam?
First of all, PMI doesn't provide a score for PMP Exams. You only get a domain-wise "Proficiency Level" on the PMP Exam score report.
When it comes to PMP exam, a pass is a pass. It doesn't really matter how comfortably you pass or how narrowly you scrape through. The proficiency level is provided to help you identify your strengths and weaknesses.
What is the PMP exam failure rate?
There's no published data on the PMP exam failure rate, but based on my experience and interaction with PMP candidates, I think around 30-40% of the candidates fail the PMP exam on their first attempt. Read about the Top 5 reasons why people fail the PMP exam and be sure to avoid those pitfalls.
Conclusion
Now that we have separated facts from fiction, you might ask, what percentage should I really "aim for" while preparing for the PMP exam? I can understand your dilemma and fully empathize with you. The target was clear when PMI used to publish a fixed passing percentage for the exam. But now the situation is a bit murky. You do not know what is a good score on mock exams, what is the right strategy, and when you are ready for the exam.
I'll address these concerns in part 2 of this series. I would also like to hear your stories, things you might have heard or experienced on this subject. Feel free to add your comments and complement this information.
2-part series on PMP Passing Score
5 Popular Myths about PMP Exam Passing Score (you are here)
Image credit: Flickr / tsmall